Video Meetings
PRINCIPAL-IT unified communications solutions include feature rich video meeting options. This fully-loaded cloud communications platform combines high-quality voice & video.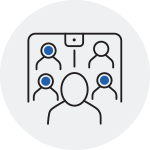 Features
HD Video Meetings
Provides every user with unlimited 1:1 and group meetings with up to 100 participants per meeting (Standard plan users can schedule group meetings up to 40 minutes). Users can join meetings at any time from the downloadable desktop app as well as via browser and mobile apps (iOS/Android). Meetings can be encrypted with a PIN for added security and confidentiality.
---
Simultaneous Screen Sharing
Users have multiple screen sharing options; share one screen, a portion of their screen, or specific applications. Even better, multiple users can share their screen at the same time, eliminating awkward pauses and wait times often experienced during presenter transitions.
---
Video Recording
Record any meeting for easy reference later, or to share updates with absent/unavailable team members.
---
Private Sidebar Conversations w/ Audio & Video
Users can speak and screen share with each other during meetings or while in virtual rooms without exiting a meeting or disrupting the main conversation.
---
Video-only Support
Also called "bring-your-own PSTN," can be deployed as a standalone video product- perfect for businesses that already have their own voice solution!
---
Get PRINCIPAL-IT Unified Communication Voice Solutions!
Contact Us Today to PLAN, PREPARE and PROTECT Your Voice Solution.
CONTACT US