Virtual
CIO
PRINCIPAL-IT offers a VIRTUAL CIO to align technology with our business goals.
A VIRTUAL CIO will help with the planning, execution and management that support your business technology needs from an experienced IT team at a fraction of the cost of having your own in-house team.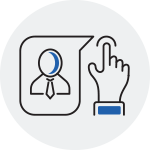 VIRTUAL CIO
Features
Our VIRTUAL CIO offers the following services:
C-Level Management
Aligning IT with business vision and goals.
---
Operational Productivity
We do what is necessary to ensure your critical business systems are managed and maintained to reduce the likelihood of downtime.
---
Create a Disaster Recovery Plan
We plan to avoid unnecessary downtime. Our plan is not based on "if" strategies but "when" so your business is completely prepared.
---
Establish Security Policies
Define and create security policies.
---
Vendor Management
We ensure your vendors are providing the services expected to prevent their services from impacting your network.
---
Quarterly Updates
We sit down with you every quarter to review performance and needs.
---
Get PRINCIPAL-IT VIRTUAL CIO Solution!
Contact Us Today to PLAN, PREPARE and PROTECT Your Network.
CONTACT US