Managed

Network Solutions

PRINCIPAL-IT offers managed network services that PLAN, PREPARE & PROTECT.

Our platinum managed network solution provides clients with access to a full range of management, monitoring, maintenence and support to serve your business technology needs.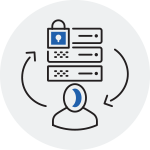 Managed Network
Features
PRINCIPAL-IT offers a range of services to manage existing or to build new networks.
Network Management
We analyze existing networks and design new networks. We perform network optimizations and systems procurement activities.
Network Design & Setup
Network Optimization
System Procurement
---
Network Security
We manage Firewalls, security patches, spyware/malware software, email security and manage access controls.
Firewall Management
Spyware/Malware Software
Email Security
---
Network Maintenance
We perform systems backups, management of Office 365 and we apply system software updates and patches.
System Backups
Office 365 Management
Software Updates & Patches
---
Network Support
We offer offsite remote helpdesk support as well as onsite technical support. 24/7/365 support is available.
Offsite Remote Helpdesk
Onsite Technical Support
24/7/365 IT Support
---
Network Monitoring
We provide network and systems monitoring as well as performance and risk mitigation monitoring for remote and onsite instances.
Remote Monitoring
Risk Mitigation
Performance Monitoring
---
Network Consulting
We conduct strategic IT reviews, IT risk assessments and provide guidance for a technology roadmap.
Stategic IT Review
Technology Roadmap
IT Risk Assessment
---
Get PRINCIPAL-IT Platinum Managed Network Solutions!
Contact Us Today to PLAN, PREPARE and PROTECT Your Network.
CONTACT US