IT Consulting
PRINCIPAL-IT offers a IT Consulting to guide and advise businesses related to their technology business goals.
We know that for many businesses information technology is probably a core area that requires attention. Trying to solve all your IT challenges internally can be costly and distract from other aspects of your business. We help businesses remain secure and efficient without taking up valuable internal resources.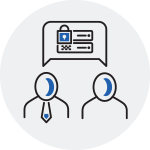 IT Consulting
Areas
PRINCIPAL-IT can assist in the following areas:
IT Assessments
Our information technology assessments help you gain in-depth insights into your current IT environment.
---
IT Strategy & Planning
Our team work can work to establish a well-developed IT program that supports business objectives.
---
Business Continuity & Disaster Recovery
A well-crafted IT disaster recovery plan and business continuity plan can keep your critical systems operational.
---
Governance & Compliance
When IT infrastructure and service management decisions are made, ensuring adherence to a documented framework can help yield long-term success.
---
Let PRINCIPAL-IT Consulting Services Assist Your Business!
Contact Us Today to PLAN, PREPARE and PROTECT Your Network.
CONTACT US