Integrated Solutions
PRINCIPAL-IT unified communications solutions easily surpasses alternatives with features and integration options designed to unleash the power of the modern workforce.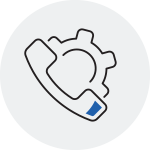 Features
API
We provide an application programming framework to allow other parties to obtain and pass information to our platform from other programs or systems. Some of the capabilities will include, but are not limited to:
Presence and Click-to-Dial
Call Control and Status
Call Logging
---
Hosted Fax
Allows you to send faxes from your computer, which can then be received via email or routed to a physical fax device. This feature provides immediate access to faxes - anywhere, anytime, and from any device.
---
Microsoft Outlook Plugin (API Token*)
Optionally installed with Outlook 2010 and 2013; provides users with the following features: Click-to-Dial, Screen Pops, and Call Logging.
---
Salesforce.com Plugin (API Token*)
An installable plugin for users of Salesforce.com supporting Click-to-Dial, Screen Pops and Call Logging.
---
Screen Pops
A small pop-up window that displays inbound Caller ID information on the use's screen
---
Get PRINCIPAL-IT Unified Communication Voice Solutions!
Contact Us Today to PLAN, PREPARE and PROTECT Your Voice Solution.
CONTACT US