Customer Portal
PRINCIPAL-IT unified communications solutions makes working remotely feels no different than working in the office with our online customer portal.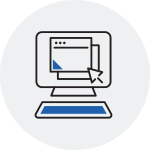 Features
Account Management
Manage your account including company name, sales reps, agents/partners, billing email, technical email, contracts, and orders.
---
Automated Billing System
Features include monthly billing, automated credit card charges, Dunning, and A/R.
---
Case Management/LNP
View the status of existing Number Porting Cases, submit new ones, assign Case ID's, and search for cases using advanced options.
---
Click-to-Dial (API Token*)
Browser plugins enable Click-to-Dial functionality for the following browsers:
Microsoft Internet Explorer
Google Chrome
Safari
Mozilla Firefox (July 2014)
---
Detailed Accounting
Track orders, invoices, and online billing, including sales proposals, orders, invoices, payments, credits, refunds, and automated monthly billing and dunning systems.
---
Endpoint Template Management
Create and modify configuration templates for any phone or endpoint on the market.
---
Message Center
Broadcast communications to Service Providers and Customers.
---
Operator Console
Web-based presence and call control application that allows users to drag and drop calls to and from other extensions, parking lots, conference bridges, or out of the Call Center queues. There is also access to voicemail, Click-to-Dial and chat functions. The console's contact list may be built "on the fly" or imported from another source.
---
Shared Line Appearance Hunt Group
In addition to the above shared line features, there is the ability to group lines into a "busy roll-over" hunt group. This feature allows calls to be presented to the next available line in the group.
---
Test My Connection
A diagnostic tool that allows your customers to test their own broadband connection for VoIP quality, suitability, and firewall port status from within their portal or via a URL.
---
URL Agent (API Token*)
Enables inbound calls to a user's extension to manually or automatically display a Screen Pop from a 3rd party web application.
---
User Dashboard (coming soon)
A web-based user interface that allows users to configure their Hosted PBX, create Call Groups and Queues, plus view call detail records, billing information, voicemail options, and more.
---
Get PRINCIPAL-IT Unified Communication Voice Solutions!
Contact Us Today to PLAN, PREPARE and PROTECT Your Voice Solution.
CONTACT US